Maidla Nature Resort
Unique, private, exclusive yet homely. These are the words that perfectly describe Maidla Nature Resort in Estonia. Drop Lähde brings extra comfort to one of the three villas on site.


Pure estonian nature
Having travelled the globe in search of unique experiences and sites, the people behind Maidla Nature Resort realized that this location is perfect for something special – the simplicity of pure raw Estonian nature alongside authentic historic manor culture. Located just 45 minutes from the capital of Estonia - Tallinn, Maidla Nature Resort offers mainly exclusive accommodation in 3 luxurious Nature Villas today.
The Nature Villas are secluded from anything else, built in between birch trees, where the untouched surroundings tell a story of the Estonian spirit. These modern glasshouses are specially made to merge into the wetlands and help you admire the surroundings in the best way possible.
At Maidla Nature Resort Estonian culture and history as well as beautiful nature are truly valued. Maidla helps guests take their time off and to experience comfort and peace at the same time. Guests can also try different active and leisurely experiences to get to know the surroundings and learn about the traditional Estonian way of life.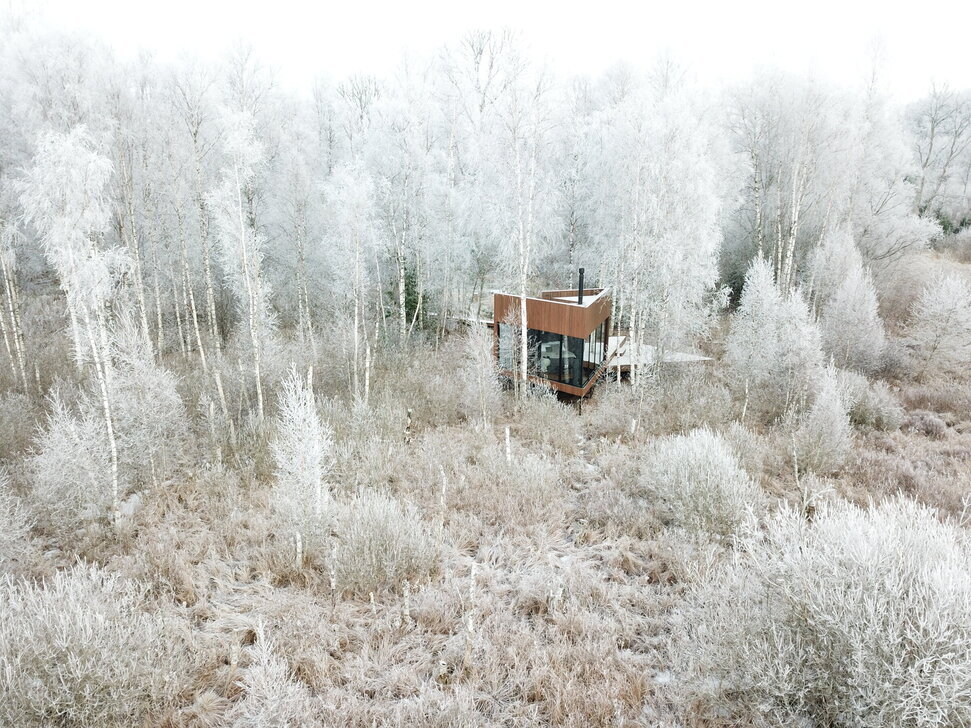 DROP BRINGS EXTRA LUXURY TO VILLA KÄBI
From the start it was clear that one of the villas should have an outdoor spa.
"As design plays an important role in our nature villas, then after some research Drop seemed like the closest match to the description we were looking for", says Susanne Org, the CEO at Maidla Nature Resort.
Drop is a spa that has character but fits into all spaces. Whether old or new construction, the spa fits in due to its architectural neutrality. Like a well-designed piece of furniture, it enhances spaces without taking away from its character. The clever functional design inside the spa complements the all-around cohesive concept.

SUstainability
Besides the importance of minimalistic design - Maidla Nature Resort and Drop also share common values like sustainability.
"It's an ongoing goal, something we are thriving towards every day, and are looking for more ways how to integrate sustainability and reduce our footprint while offering the best service." says Susanne.
"Maidla Nature Resort really has a great deal of uniqueness, mystery and many layers to discover. Attention to details is our strength and we encourage everyone to experience it themselves. When there's the saying that a photo tells more than a hundred words, then I say that the experience says more than anything else."